Caregiver Tips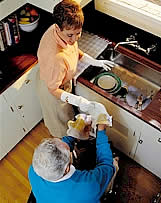 Try not to look at the whole picture.
Break the job into small tasks.
Give yourself lots of credit.
You deserve every pat on the back that comes your way, including those from yourself.
Use your sense of humor.
Laughing is good for you physically and it helps everyone around you feel better.
Ask for help.
It isn't a sign of weakness; it's only human. You will need to be very specific about what you need and when you need it.
Establish daily routines.
Having a routine will help to minimize stress.
Keep your options open.
Look into other care options when you've reached emotional overload or maximal stress levels.
Work with the doctor.
Be sure the doctor and other healthcare professionals keep you informed about your loved one's medical condition.
Get organized.
Keep all of your loved one's important information in one easily accessible place. Be sure to include insurance, legal, and financial information (i.e. insurance cards, advance directives, social security, etc.).
We understand, and our goal is to help you and your loved one through this difficult time so that both of you can enjoy an enhanced quality of life. Please feel free contact your ElderCare Specialist for assistance with your eldercare needs.