Housekeeping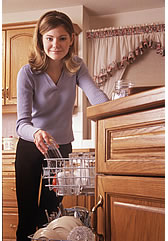 Senior Solutions' personal assistants are available to help elderly clients with daily household chores. Often older adults need just a little assistance keeping their home clean, tidy and safe. We offer housekeeping services such as:
dusting;

vacuuming;

mopping;

doing dishes;

watering plants;

taking out the garbage;

picking up the mail;

washing, folding and putting away laundry; and

making beds.
Senior Solutions is one of the premier home care agencies in St. Louis offering medical and non-medical, in-home, caregiving and companionship to seniors who need assistance with everyday activities in the comfort of their own home. We are dedicated to assisting our clients in everyday duties and activities. Whether you or a family member needs assistance, you will be pleased with the caring and professional attention our staff provides.